Contents

Every Second Counts Lance Armstrong with Sally Jenkins Broadway Books New and Isabelle for always reminding me that every second really does count. Every second counts / Lance Armstrong with Sally Jenkins. - Ist ed. p. cm. 1. Armstrong, Lance. 2. Cyclists-United States - Biography. 3. Cancer Patients— United. Every Second Counts: Lance Armstrong, Sally Jenkins Every Free download or read online Every Second Counts pdf (ePUB) book.
| | |
| --- | --- |
| Author: | KALLIE MUSTARO |
| Language: | English, Spanish, German |
| Country: | Eritrea |
| Genre: | Business & Career |
| Pages: | 378 |
| Published (Last): | 16.04.2016 |
| ISBN: | 347-4-76443-765-9 |
| Distribution: | Free* [*Sign up for free] |
| Uploaded by: | TEISHA |
---
67619 downloads
90709 Views
25.72MB PDF Size
Report
---
Every Second Counts book. Read reviews from the world's largest community for readers. In Paris on 25 July , Lance Armstrong made world headlines. Every Second Counts [Lance Armstrong, Sally Jenkins] on louslaneforbu.tk *FREE* shipping on qualifying offers. In , Lance Armstrong made world headlines. House, #Every Second Counts # #In , Lance Armstrong pdf. Biography & Autobiography #Daniel Coyle, Tyler Hamilton #WINNER.
Bill Stapleton, Bart Knaggs, and Lee Walker offered unvarnished advice and their ever-sure friendship. Jim Ochowicz, Dr. Sally Reed and everyone at the foundation are a constant example. But they will all understand when I say that my greatest thanks go to my family and to my team, Big Blue. I come up whooping through the foam and swim for the rocks. Then I climb back up and towel off, and I drive home to my three kids. I burst through the door, and I shout at my son, Luke, and my twin daughters, Grace and Isabelle, and I kiss them on the necks, and I grab a Shiner Bock beer with one hand and an armful of babies with the other. The first time I ever did it, my wife, Kik, just looked at me and rolled her eyes. At what pointdo you let go of not dying? If he can do it, I can, too. I think of them all the time. I was 25 when cancer nearly killed me: advanced choriocarcinoma spread to my abdomen, lungs, and brain and required two surgeries and four cycles of chemotherapy to get rid of. Black meant clear; white meant cancer. My chest looked like a snowstorm.
However, at the time of this writing, his marriage was struggling he would eventually divorce , and he explores the difficulties that his career and focus had placed on what should have been the most important thing in his life. If you read it now then it just seems hypocritical. Apr 15, Hazel rated it really liked it Every Second Counts, by Lance Armstrong, tells the story of his life after he overcame cancer.
Armstrong is a seven-time Tour De France winner, which is arguably the hardest cycling race on the planet. He wrote this book in collaboration with Sally Jenkins, a sports writer.
I was unaware of a second book until, by chance, I stumbled upon it. I think that it is an injustice to have this bo Every Second Counts, by Lance Armstrong, tells the story of his life after he overcame cancer.
Cycling Investigation | U.S. Anti-Doping Agency (USADA)
I think that it is an injustice to have this book stowed away out of sight, because it was a gripping read. The story begins by describing how he won his first Tour De France win in with his team the US Postal Service, after battling and surviving cancer. It continues all the way until his Tour De France win in , after six wins. Life after cancer. Life after kids.
Life after victories. Life after some personal losses. And if you shank it, then go and find your ball and try it again. My ranch, which I bought with my father-in-law, Dave Richard, is on a bluff near a town called Dripping Springs. I studied the waterfall and took a picture of it. Afterward, it stayed with me. After we did some work sighting the house, we climbed into a truck and drove down through the brush and parked in a grove of live oak. From there we hiked to the swimming hole. First, Ryan and I slid into the pool and checked its depth.
Ryan dove down deep and came up sputtering. We climbed back up, and then stepped carefully through the rocks, looking for a good place to jump from. Finally we found the spot we were looking for. I stood there, shaky in my knees, with that parchedness in the roof of my mouth.
Knees bent, I peered over the edge. Down below, I saw Dave sitting on a fallen tree by the pool. I yelled at him over the noise of the waterfall. And then I straightened up, and I jumped. I fell, and fell some more. My arms started to pinwheel, until I remembered to gather them in and hold them tight to my body.
When my sneakers hit the water, it sounded like cement breaking. I came up laughing. I could hear Dave applauding and cheering from the side of the pond. I climbed out, and we toweled off, and then we hiked back up the ridge. We paused there and I scanned the pond, looking for fish. And then here came a blue dragonfly, right next to it.
I marveled at the two vivid creatures buzzing around each other. And then for the fun of it, I burst out singing the national anthem at the top of my lungs, my voice banging off the walls of the little wash. I was stupidly happy, as if I had a new skin. It was a freshness put there by fear—cleansing, clarifying,sharpening fear.
Fear that opened the senses, and brought everything into clearer view. Like I say, a little fear is good for you—assuming you can swim. But not everyone approved of my pulse-checking methods, especially my friend Bill Stapleton, who also happens to be my lawyer and agent and therefore has a certain interest in my future and all. But even as he was talking, Bill knew it was useless. Bill knew I was serious, because he knows something else about me, too.
He knows I need the action. A regular, hardworking, T-shirt-wearing guy. A regular, hardworking, motivated, complicated, occasionally pissed-off, T-shirt guy. There are some obvious contradictions in that statement, I know. We only have inklings as to why we are the way we are. Which parts of any of us are made, which parts self-made, and which parts born?
What surviving cancer teaches you is the magnitude of your dependence on others, not just for self-definition, but for your mere existence.
That was the case with Sally Reed and me; without cancer there would have been no likely connection between a bike rider and a fiftysomething woman who, as she jokingly puts it, would have otherwise spent most of her time watching daytime TV. I was en route to winning my first Tour de France when Sally was diagnosed with cancer.
So I did. Sally put the poster up in her kitchen, and she looked at it every day as she endured six months of radiation and chemotherapy treatments. She came in without fail every Tuesday and Thursday, driving an hour each way, to answer mail and requests from cancer patients all over the world. She became the most devoted volunteer in the office, dispensing information, advice, and sympathy.
The peculiar thing was, for the longest time we never met face to face. I heard all about her and she heard all about me, but we kept missing each other. I usually went to the foundation on Wednesdays or Fridays, and she was never there. She made columns for the date, place, and time of each Lance Sighting. And so on. It became a running cause of hilarity in the foundation. The board filled up with Lance Sightings; all the volunteers marked their columns each time I stopped by.
But Sally and I continued to miss each other. She liked to joke that even the delivery man had made a Lance Armstrong sighting, but she never had.
One afternoon, her husband saw me out training on my bike. Sally started a new category: Finally, after about a year of this, I went by the foundation and wrote a note and stuck it in her mailbox. About a month later, I got back to town, and I went over to the foundation office.
She had spent a thousand hours at the foundation before we finally met face to face. We hugged, and liked each other instantly. She was a well-to-do wife and mother whose life had been derailed by breast cancer not once, but three times; both of her sisters had also been diagnosed with it. We visited for a while, talking about the foundation a little bit, about how to make people feel strong. And we talked about cars, because we both liked fast ones. Maybe we simply have a kind of telepathy about it.
Or maybe we simply choose not to dwell on the horrors of it. She forwards correspondence and special requests from all kinds of people in the cancer kinship, and she sets up encounters between us. Shared experience makes people feel strong.
In my case, I never knew my own father. Eddie Gunderson might as well have been an anonymous DNA donor; he left my mother shortly after I was born, and he surrendered all legal parental rights to her.
My mother and I never discussed him. That price was paid. He was the keeper of the secret, the man with the answer to the unanswerable. I intended to investigate the meanings of family through my own children—by looking ahead, not back. Sometimes one person can be all you need, and that was the case with my mother.
Planowas a wealthy suburb, and other families had a lot of things compared to us. Whatever we wanted to download, we had to earn. I also understand the hundred small anxious moments I must have caused her—there was always some childhood injury to nurse, from my various bike wrecks and stunts. She laughs at the way I worry over and indulge my own kids. What I knew how to do best was move forward. When I was young, I rode to amount to something. But what would be the motive now?
What would keep me in the saddle in the fifth and sixth hour, when the snow turned black? I had every intention of winning the Tour again. It never occurred to me to rest on my past victory. He only wants a present and a future. I know this much about myself: That winter and spring, most people doubted whether I was capable of it, for various reasons.
The rewards of winning the Tour had ruined more than one rider, made them complacent and killed their careers, and now I knew why. Generally, one of the hardest things in the world to do is something twice. This was truer than I liked to admit. I was struggling to maintain a balance between home, work, training, and commercial endorsements. The days only got busier, not less busy, and I struggled to adjust to new responsibilities, to my family, cancer advocacy, cycling, and endorsements.
Whenever I overcommitted to any one of them, I seemed to be neglecting something else, especially Kik and Luke. None of this was to mention routine errands, and business headaches, traffic jams, the daily work of living that could clutter up a day, and obscure that sparkling awareness I thought was mine.
I knew I was dividing my energies too many different ways one afternoon, when I found myself on a golf course, trying to play nine holes and relax. As I was lining up a putt, I held a cell phone to my ear, trying to handle a business matter involving new cycling tires. I put the phone down in the grass, hastily missed the putt, and then resumed the conversation. On another day, I found myself sprinting through theOrlandoairport, pouring sweat, with my bike in a cardboard box, as I tried to make a flight toNew Yorkfor a business meeting.
I was thinking maybe I could get in a couple of hours riding inCentral Park. In the end I had to ditch the bike at the airport, because I was so late for the flight. I dropped into my seat drenched, after arguing my way past a stewardess. This has to stop , I thought.
In its own way, too much success could deaden you, I realized. I preferred the immediacy of simply trying to stay well, be a good parent, and ride a bike. I went to my friend Lee Walker, and we had a talk about tradeoffs, how to juggle commitments without cheating myself or the people around me. Lee helped me understand that a schedule was not a trivial thing. Lee had spent every day in a suit and tie until he awoke one morning with a searing pain in his back, from spinal meningitis. While he was ill, he realized he hated his life, and half-hoped the illness would kill him.
After he got well, he started a second life. He lived near campus in a pretty old house with a wildgarden, and a cottage-office out back with a huge blackboard and bookshelves to the ceiling. He was a benefactor to a lot of causes and young people inAustin, including me. When I first knew Lee, pre-cancer, we talked mostly about money. It was my primary topic; I wanted to learn at the knee of a fortune-making wizard. Happiness to me was making money and acquiring stuff.
But whatever I imagined happiness to be, pretty soon I wore it out, took it for granted, or threw it away. A portfolio, a Porsche, these things were important to me.
So was my hair. Then I lost them, including the hair. Sold the car, dropped a good deal of money, and barely hung on to my life. Happiness became waking up. After that, everything changed between me and Lee. We talked about our pitched-back experiences, and about the basic riddle of survivorship: Lee liked to quote the poet Mary Oliver.
Lee persuaded me that the important issue was not money, but time. I began to ask, what did I really want? I settled on a few meaningful endorsements and tried to remember that my pressures were a privilege, and that they came with a rare dose of public goodwill.
On balance, I just hoped to stick to what I cared about and believed in, without letting it slip personally or professionally. Meanwhile, everyone in cycling watched and wondered what the wealth, endorsements, and publicity maelstrom would do to me. It changes life forever. The cycling world had refused to believe in me in the first place, and now they suggested that a second victory was implausible.
But they did me a favor when they wrote me off, because they gave me my new motive. That, alone, made me want to win another one.
Anything less than another Tour title was, to me, a failure. And you know why? Because none of them think I can. I kept a list. I thrived on long odds. The world is full of people who are trying to download self-confidence, or manufacture it, or who simply posture it.
In early May, the U. The 87th annual edition of the race would cover 2, miles and 23 days, counterclockwise aroundFrance. It was an admittedly illogical undertaking, but then, the Tour evolved from a bizarre stunt in the first place: From the outset the event was plagued by cheating, accidents, and absurdities.
Since then, however, it has grown into a full-fledged sport, and a beloved national ceremony. Bike racing is a peculiar sport by American standards, with a strange ethic and an intricate code, and there are as many unwritten rules as there are written ones. The various members of the U. Postal team had different roles along the way.
Some of them, like my close friend Kevin Livingston, were strong climbers and it would be their job to help me through the mountains, riding in front to shield me from the wind, and pace me up the climbs, while others, such as my great friend George Hincapie, would help me sprint through the flats. Most of my teammates, like Hincapie, Tyler Hamilton, and Viacheslav Ekimov ofRussia, were extremely accomplished riders and very capable of winning big races in their own right, and it was a testament to their dedication that they rode so hard on my behalf.
Our tactician, ordirecteur sportif , was Johan Bruyneel, a dashing former cyclist fromBelgiumwith a reputation for giant-killing: He is an unexcitable man with steady gray eyes and a cleft chin, and as our director he has enormous patience, a talent for devising race plans, and meticulous attention to details.
Every Second Counts
It was Johan who insisted that we hold those camps and familiarize ourselves with the routes. We rode for hours on end through the raw European spring. In early May, the weather in the jaggedPyreneesalternated between icy and sun-scorched, and it was on the backside of one of those desolate peaks that I nearly lost the Tour before it started.
We had just climbed a mountain called the Col du Soulour, in order to practice a high-speed descent that might be important. As we went up, the mountain sun baked us. I took my helmet off my sweat-soaked head and hooked it over the handlebars. At the top, I paused while one of our mechanics made some adjustments on my handlebars. Then I pushed off, crouched over the bars, and dived down the mountain—with my helmet still dangling from the handlebars.
It was an elementary mistake. The descent was narrow and winding, with a steep drop into a valley below to my right, and a brick retaining wall to my left. I concentrated on cornering, without losing speed. I rounded corner after corner, enjoying the rhythm. It blew. The handlebars swung crazily, like somebody had wrenched them out of my hands. What seconds before had been a high-performance rubber tire generating a secure centrifugal force was now shredded on top of a flat carbon rim.
The bike shuddered wildly, and my front wheel veered toward the brick wall. I thought,IfI just get it straight, maybe I can slow down enough.
The wall came too fast. There was a ditch just in front of it, and my front wheel plunged into it. I catapulted off the bike—and hit the wall head-first. It was as though the daylight suddenly exploded, and the sky cracked in half. I lay in the ditch, stunned and bleeding. Johan had been driving in a car behind me, and now he came around the corner to see me lying in a pool of blood.
I had a deep cut in my jaw, my head was swelling and I was barely conscious. I heard people running. Then I heard some voices—Johan, and strangers.
I tried to sit up. The other leaped up and ran to their car for some ice, which they put on my head. I remember overhearing Johan, speaking with the doctors. At some point, an ambulance came and took me down from the mountains to a hospital inLourdes. I took some stitches in my head and my jaw, and they kept me overnight for observation. I kept feeling that plastic mattress-cover underneath the sheets, which I managed to soak with perspiration.
The next morning I flew home to Nice. Kik met me at the airport. My head was about three times larger than it should have been, and I had two black and puffed-out eyes, along with scrapes and cuts all over my face. Kik gasped.
For weeks I sat on the sofa at home, unable to train or race, waiting for my head to regain its normal shape. I liked descending, and I liked cornering, but now I decided that if I lost 30 seconds, that was okay. I could make it up. Finally, carefully, I resumed training.
The crash had prevented me from making perhaps the most important reconnaissance, of a climb called Hautacam. It was a famed ski station at the top of a mist-shrouded mountain nearLourdes, and it would be the first mountain stage, as well as one of the most difficult.
So I went back. The weather was blustery and I rode the exact route we would take, only there were no spectators and I was alone except for Johan in a follow car. I arrived at the foot of Hautacam, and I began to jog atop the pedals, working my way up the steep hillside. It was pouring down a mixture of snow and sleet, and my breath streamed out in a white vapor.
After about an hour, I reached the top. Johan pulled up and stuck his head out of the car window.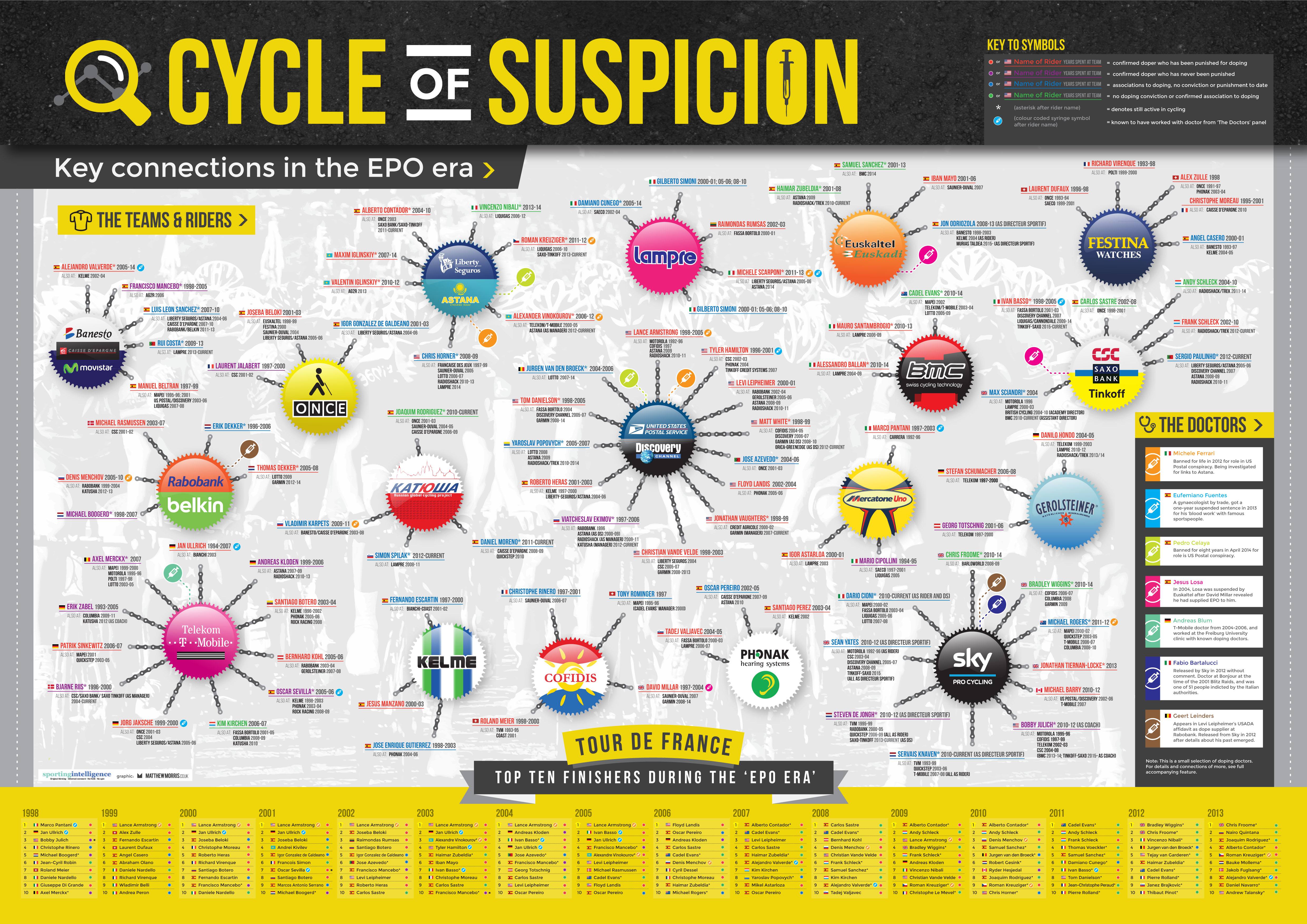 I hesitated. At the end of a rehearsed climb, I wanted to feel that I knew the mountain so well that it might help me. And then I rode it again, straight up for another hour. At the top, Johan met me with a raincoat. Those figures showed me where the mountain was hardest for me and where it was easiest. It was my habit to e-mail the figures to Chris, and he would make notes and comments and send them back to me. That night Chris opened the file I sent and looked like at my figures. The next morning, he called me.
I think the file got corrupted, because the numbers are funny. The Tour field would be one of the strongest in years, and they were all marking me. The field would be full of champions. Ullrich was probably the most physically gifted cyclist in the world, a large man who rode with a compelling muscularity, churning big gears.
Pantani, a lean, sharp-featured man with a shaven head over which he liked to wear a piratical scarf, was hungry in a different way.
The course would be another opponent: The race began with a prologue, a mile sprint through a theme-park town, Futuroscope.
The prologue was essentially a way of seeding the riders, determining who would ride at the front. The result was a surprise: I finished second to David Millar. He beat me by two seconds, with a time of 19 minutes, 3 seconds. When the results were announced over the loudspeaker, David burst into tears. I was disappointed for myself but delighted for him.
That night, he slept in the yellow jersey. We set off on a series of flat, uneventful stages. They were fast-paced and wet; fromTourstoLimogesto Dax, we rode in a relentless downpour almost every day. All I needed to do was stay in contention and out of trouble until we got to the mountains. In the mountains, the real race would begin for some, and end for many.
Everything else, by comparison, was jockeying for small advantages and increments. I loved the mountains. The first mountain stage would take me to Hautacam. On the morning of the stage, I awoke to a freezing rain. I hopped out of bed and threw back the curtains, and I burst out laughing. It was suffering weather, the kind that could defeat a lot of guys as soon as they got up in the morning. It had been the ideal dress rehearsal. They dreaded the pain, and you could feel the fear beat some of them before they ever pushed off.
They murmured and hung their heads in the rain and frowned at the weather. I felt ready. Bring it on. He built a huge lead that would last all day. None of us chased him, conserving our energy for the big climbs. The long day wore on our legs, and my teammates dropped away, one by one.
Now they were gone, and I was alone, except for a handful of riders from other teams. Ahead was the last steep, monstrous climb, of eight and a half miles. It rose at a 7. All of us were chasing Otxoa.
We reached the foot of Hautacam—and Pantani stood up on his pedals and attacked. He swung to the inside of the road and accelerated. Zulle immediately reacted and went with him. But Zulle tailed off, and I moved in front of him. I settled into a tempo, fast enough to hurt anyone who wanted to keep up. I checked over my shoulder, and Zulle was gone. Now it was me and Pantani. I had to be careful; it was important to pace myself, because efforts on a mountainside were like gaskets, as Zulle had just proven.
We reached a slope I knew well, Pantani just ahead of me. I stood up and drove my feet down on the pedals. Another moment, and he lost contact with my bike altogether. I swept up the hill. I wanted the other riders to see strength in my attitude on the bike, because there was something dispiriting about watching another rider move past effortlessly while you suffered.
The only giveaway to how hard I was working was the flaring of my nostrils. By the time I crossed the line, I was the leader of the Tour de France. Pantani, down by He had hung on to finish 42 seconds ahead, and was the stage winner. I had what I wanted, the overall lead and the yellow jersey. It was a good day, a big day, and a day that had perhaps demoralized the other riders.
Some said I had blown the race apart. No one can fight him. The other riders knew as much, and they would try to isolate me and wear me out. The 12th stage was likely to be a decisive one: It looked more like a moonscape than the mountains.
Some of the greatest climbing legs ever had been ridden to the summit, but it was also the scene of a tragedy. In , British cyclist Tommy Simpson, riding under a broiling sun, had weaved across the rode and fallen off his bike. The Ventoux was a dangerous, difficult, haunting climb. We began the stage by riding into themistral , a powerful north wind that beleaguers the entire region, blowing over our shoulders from the front.
We rode for more than three hours until we reached the Ventoux, where the temperature suddenly dropped into the 30s. The ascent itself would last about 13 miles—throughmistral gusts of 40 miles per hour to a windswept peak.
For the first few miles, Pantani probed, trying to see if he could open a lead. He would surge, and then fall back, and surge, and fall back. With roughly three miles to go, as we neared a memorial to Tommy Simpson, I stood up and moved past Pantani. As I did, I turned and spoke to him.
At that moment, I felt Pantani deserved the win. I respected his effort, and it seemed only right that a superb climber like him should win on the Ventoux, especially since I had a ten-minute lead after almost two weeks of racing, and could afford to finish second. In fact, there could be a strange honor in it.
Sometimes it was the role of the leader to be agrand seigneur —that is, generous. This was something I learned from Indurain, winner of five straightToursfrom to There were riders in the field, all working hard, and each deserved recognition for his efforts, and there were no losers at the end of a day when you had climbed the 10 percent grade up Mont Ventoux at the top of Provence, where a rider had once died making the ascent.
But Pantani misinterpreted me. He thought I was antagonizing him. We pedaled side by side toward the finish line, in the fierce wind. I had a choice: I could sprint to try to beat him to the line, or I could choose not to contest the stage, since my overall lead was safe. A pedal-stroke from the finish, I let up.
All that mattered was that I had widened my lead over my real competition, Jan Ullrich, by another 31 seconds. Indurain could give it and people could accept it. But when I did it on the Ventoux, it infuriated Pantani. I also publicly called him Elefantino, a nickname he hated.
It referred to the way his prominent ears stuck out from under his bandanna. That set off a feud that lasted for a week. A taste of triumph. My friend Eddy Merckx, the great Belgian five-time Tour winner, scolded me. Younever make a gift of Ventoux. Over the next few days I was angry and distracted. First, I gave in to sentiment, and then I let a quarrel distract me, and neither served me especially well.
We arrived at the final mountain stage, the last dangerous part of the Tour. It was a comparatively short but difficult ride of miles, to the top of a mountain called Joux-Plane.
Shorter stages arefaster, and therefore sometimes harder. Pantani went out hard, specifically to bait me—and lured me into one of the worst mistakes of my career. The attack put our U.
Postal Team under pressure, and Johan and I talked back and forth on our radios, discussing strategy. How much should we let Pantani get away? I badly wanted to beat him to the finish this time. The action was intense, and my resentment was very high.
For 50 miles Pantani stayed ahead, with me chasing. But we were riding strong, and I felt good on the bike. So good that I passed my last chance to eat, and spun through a feed zone without a second thought. It was a feeble mistake, an unthinkable one for a professional, but I made it. We were so focused on tactics and on Pantani that I forgot to do the simplest thing. It never occurred to me what the consequences of not eating could be.
Finally, I caught him on the approach to Joux-Plane. There, he began to fall back with stomach pains, and eventually lost 13 minutes. But he had done what he had set out to do: Other riders dropped off, unable to match our pace. It was just us. Then Kevin, worn out, fell back too. All of a sudden I was alone. It started witha telltale tiredness in my legs, and then a hollowness in my stomach. I had no water, no food, no protein bars, nothing—and no way to get anything, either.
I could feel the power draining from my body. Virenque and Ullrich caught up to me. At first I tried to stay with them, and push through the pain, but my speed slowed, and then slowed some more. Soon, it was as if I was sliding backwards down the hill. Ullrich and Virenque turned around, surprised. Is he faking? There were ten kilometers to go, six miles. But it felt like sixty. Johan came on the radio—he could tell exactly what was happening from my slow pace. Johan, as a former cyclist, knew what could happen if a rider broke.
It was that I might collapse, or quit altogether, lose the entire race right then and there. Johan kept his voice casual on the radio, even though he must have felt the pressure. Not only was I bonking, but riding in the car with him as a VIP guest was the prime minister ofBelgium.
The worst thing I could do was push harder, because that could mean going to zero, totally empty. And that was when people failed physically and fell over sideways. Every revolution of the pedals sapped me more, and put my body at a greater deficit. It was a question of fuel, of calories or the lack thereof.
That kind of depletion could make strange things happen. As the body broke down, so did the mind. You went cross-eyed, or the snow turned black.
You hallucinated. You tried to talk through your ears. Or you got off your bike. You coasted to the side of the road and stopped, because you simply could not pedal.
If you got off the bike, you were done, out of the race. And I was not that far from completely stopping. Now it was happening to me. Steadily, I deteriorated. It was my darkest day in a race. I began to lose any sense of where I was, or what I was doing. Johan kept talking steadily into my ear, saying the same thing. You can lose a minute, twominutes, three minutes, four minutes, and you are okay.
They sipped wine and snacked while they followed the action on TV. At first no one noticed that I seemed to be slowing. But then I fell off the front and began to fade. Ullrich and the others began to put real time on me. Suddenly the noise in the trailer went from happy chatter to confusion.
I was so dehydrated that my body temperature went funny. I got the chills. My limbs felt hollow, empty. Empty, empty, empty. A Sunday cyclist on a casual ride could have passed me. Standing in the crowd on the mountainside watching me labor upward was Bart Knaggs. As I say, you define yourself partly in relation to other people, and Bart and College had been there for some of my defining moments.
Bart and his wife, Barbara, who had twin baby daughters, had been close confidants when Kik and I went through the in-vitro fertilization that made Luke. Bart, College, and I had ridden together across miles and miles ofTexashill country, laughing and trash-talking, or just talking.
I liked to taunt them on the bike, ride even with them for a while, and then light them up. One day we took an exceptionally long ride to Wimberly and back, over miles of rolling highway. Finally, Bart had enough and pulled off, and took a shortcut home, but College tried to stay with me. He did okay until we got to Dripping Springs, when he hit the wall. His body started salting up, and he got weak. But when we were only about five miles from home, he could barely pedal anymore.
As we hit the last big hills coming intoAustin, I put my hand on his back, and pushed him up the slope toward home. Not long after that, I got the cancer. I kept trying to ride, though, and Bart and College would go with me. Now they were the ones who could leave me in the dust, because I was so weak. One afternoon, when I was bald and thin and yellow from my third chemo cycle, I wanted to ride.
I should have been in bed, resting, but I insisted, so Bart and College went with me. We only went three or four miles when we came to a hill. I started failing. I almost cried with the humiliation of it, but I was glad for the help. Those were the things we did for each other. What goes around comes around: Now here was another defining moment. On Joux-Plane, Bart, who knew me better than anyone, stared at my ashen face and my eyes, which now were red-rimmed and badly bloodshot. He saw how the bike swung unsteadily underneath me, and he knew exactly what had happened.
So he did the next best thing. He started to run alongside me, screaming encouragement. I just stared straight ahead. I never really knew he was there. All I remember, vaguely, is the sound of his voice. It seemed as if it was lost in static, but it was there.
Lance Armstrong
I thought it was coming through my radio. Apparently I had gone long minutes without responding to him. I was delirious. I guess because he can. On some level, the cancer still played a part: I could always draw from that knowledge, and it felt like power. I was neverreally empty. I had gone through all that, just to quit? But Bart kept me there, too. Whatever I was as a cyclist was the result of a million partnerships, and entanglements, and any cyclist who genuinely believed he had done it all by himself was destined to be a lonely and losing one.
The fact is,life has enough lonely times in store for all of us. If I had any doubts on that score, they were settled by what happened next. About halfway up Joux-Plane, I got some added, unexpected assistance from two riders who came up behind me, Roberto Conti and Guido Trentin. They were good, strong, respected riders who I was fairly friendly with. They saw immediately what state I was in.
What happened next was a classic case of cycling sportsmanship, and one I will never forget: Without being asked, they moved in front, shielding me from the wind, allowing me to draft on them, and sparing me untold amounts of work.
It was a gesture typical in the Tour; we were competitors, but we shared a mutual compassion for extreme physical suffering. Fortunately, the last few miles of the stage were all downhill. Once Bart and my other friends had pulled me to the top of Joux-Plane, I sagged over the handlebars and coasted to the bottom.
In the end I lost only 90 seconds off my lead. But I might easily have lost everything, and I knew it. For instance, Chris Carmichael came over to the hotel and met me in my room. I had nearly wasted the efforts of everyone involved.
In retrospect it was a great lesson: The next question was,would I be able to recover? How much had it torn me apart getting up that mountain? Sometimes riders had terrible stomach problems—like Pantani, who had cramps and awoke the next morning unable to race, and dropped out.
But to my relief, I felt fine that night, and just wanted some hard sleep. Back home, Kik had to watch the whole thing on TV, and it was wrenching, because she knew what must be happening and how much I was suffering. I called home. All that remained were the flats, uneventful stages towardParis, and as we neared the finish, I finally allowed myself to accept that I was the winner. I still cringed over that. I went all-out, as the leader in the traditional yellow jersey should. I wanted to represent the jersey, and to feel like an outright winner.
I crossed the line spent. My eyes were glazed, and spit was hanging out of my mouth. I just moved where I was directed. During that last ride, I finally let myself have champagne, and sipped a glass as we rode along. Finally I crossed the finish line with a time of 92 hours, 33 minutes, and 8 seconds for the 2, miles. On the podium, Kik handed me our nine-month-old son, and I raised him up, with tears in my eyes.
Ullrich was a generous runner-up. You could field a whole team with the people who thought they could win the Tour and beat me. There were hundreds of people there, including about 80 who had flown in fromAustin.
Finally I stood up and spoke to my teammates. The reason we were celebrating, I said, was because we had worked harder than anyone else, and the result was that we were no longer the long shots, the flukes; we were established champions.
But in repeating the victory, I made a pleasant discovery: Each was like a fingerprint, fine and distinct. How were they different? I could tell that from the thinness of my neck, and the way my ribs and shoulder blades jutted out of my shirt.
But in a way, suffering made it more gratifying. Suffering, I was beginning to think, was essential to a good life, and as inextricable from such a life as bliss. It might last a minute, or a month, but eventually it subsides, and when it does, something else takes its place, and maybe that thing is a greater space.
For happiness. Each time I encountered suffering, I believed that I grew, and further defined my capacities—not just my physical ones, but my interior ones as well, for contentment, friendship, or any other human experience.
The real reward for pain is this: If I quit, however, it would have lasted forever, that surrender, even the smallest act of giving up, would have stayed with me for the duration. When you felt like quitting, you had to ask yourself which you would rather live with. After it was all over, someone gave Bart a picture. It was of me, pale and delirious as I suffered on the climb up Joux-Plane. In the background, Bart is running alongside me, urging me on. Behind Bart is a guy dressed up as the Devil, one of those costumed characters who haunt the roadsides of the Tour and give it a circuslike atmosphere.
It was as if they represented the two choices, either to keep on or to quit. Your very worst, not the glory day. That day, my worst, one of my best friends was right behind me, on foot, screaming at me to keep going.
Maybe it was the real victory to have the same people around me, whether it was a day spent in a hospital bed, or a day when I almost lost a race. Bart signed the picture and gave it to me. I framed it and hung it on my wall.
Every second counts
Some losses are more tolerable than others, and some things are unrecoverable, and the echelons of loss change in crisis. I won the race on her 50th birthday. On the morning that I crossed the finish line inParis, she was 50, and losing all of her hair. It was falling out in handfuls. She was so full of. Instead, she and her daughter went out on the deck, and as the breeze blew the loose strands of her thinning hair around her face, she stood there and gently pulled the rest of her hair away.
She turned and threw the strands into the wind. Any temptation I have to brood over losses is tempered by the knowledge that I can afford to lose just about anything, except my life and the lives of the people I care for.
The less-than-excellent season of — would include losses, both on and off the bike, but it would have been immeasurably harder without that context. Like Sally says, my house is burned, but I can see the sky. That year saw the beginning of a long, hard defense of my character. How do you prove a negative? All I can do is to submit to the endless needles and cups, no matter what the time of day or how disrupting to my private life.
I have an easy heart. Not one. Nor do I intend to, ever. You know why? But no matter how many tests I took, there were still those who considered me guilty, a doper-mastermind who outwitted scientific communities across the globe, and the suspicion reached a height in — For a while some people even believed I was given a miracle drug during chemo.
Reporters used to call my oncologist, Dr. Craig Nichols, and grill him about what he had done to me: Finally, one day, while yet another reporter was interrogating him as to how he had Frankensteinedme, Dr. Nichols wearied of all the questions. He waited for laughter. But there was none. Nichols decided that much of the skepticism was based on disbelief that someone could not just survive cancer, butprosper.
But I challenged that assumption by returning to a full, productive life. Nichols said. How do you fight an invisible opponent like suspicion? How do you learn to cope with doubt, and, more important, self-doubt? And how do you learn how to lose? I have a love-hate relationship with losing: In August of , I had yet another crackup on my bike.